The latest business news as it happens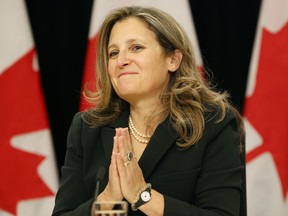 Article content
Today's top headlines
Article content
---
4:30 p.m.
TSX posts small gain, U.S. stock markets mixed
Article content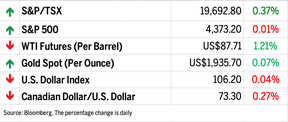 Strength in base metals and battery metals stocks helped Canada's main stock index eke out a small gain, while U.S. stock markets were mixed.
The S&P/TSX composite index closed up 72.00 points at 19,692.80.
In New York, the Dow Jones industrial average was up 13.11 points at 33,997.65. The S&P 500 index was down 0.43 points at 4,373.20,while the Nasdaq composite was down 34.24 points at 13,533.75.
The Canadian dollar traded for 73.28 cents U.S. compared with 73.43 cents U.S. on Monday.
The December crude oil contract was up 18 cents at US$85.44 per barrel and the November natural gas contract was down three cents at US$3.08 per mmBTU.
The December gold contract was up US$1.40 at US$1,935.70 an ounce and the December copper contract was down less than a penny at US$3.58 a pound.
The Canadian Press
---
3:53 p.m.
Ottawa examining new measures to rein in short-term rental services like Airbnb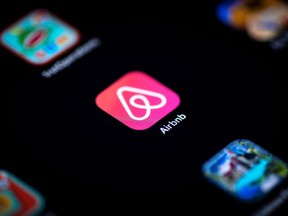 Canada's government is examining new measures to rein in short-term rental services such as Airbnb Inc. as policymakers try to cool inflation in apartment and house rents.
Finance Minister Chrystia Freeland said the government is looking at what laws or regulations it can bring in to curb the use of platforms that offer rented accommodation for a few days or weeks at a time. She heaped praise on the province of British Columbia, which this week introduced a proposed law to restrict many residents from renting their investment properties on Airbnb, Flipkey and similar services.
Article content
"We know that short-term rentals through sites like Airbnb and VRBO mean fewer homes for Canadians to rent, especially in urban and populated areas of our country," Freeland said during a press conference in Ottawa. She said she has seen estimates that as many as 30,000 more homes could be made available for rent in Toronto, Montreal and Vancouver, if those platforms were restricted. "It is so important that we are examining whether there are any tools in federal jurisdiction that we could use that would make a difference in this space."
Rents rose 7.3 per cent over the past year, Statistics Canada said in its inflation report — 8.4 per cent in British Columbia, which includes greater Vancouver, one of the country's most expensive housing markets.
The British Columbia law won't apply to certain resort areas or to municipalities with fewer than 10,000 people.
Bloomberg
---
3:43 p.m.
Freeland announces steps to make banking more affordable, create complaints mechanism
Finance Minister Chrystia Freeland has announced several steps the federal government is taking to make banking more affordable, which in part follow up to pledges made in the spring budget.
Article content
Freeland says she has instructed the Financial Consumer Agency of Canada to work on making more no-fee and low-cost bank accounts available to Canadians.
Finance Canada is also being tasked with taking a look at reducing bank fees, such as charges when a check bounces back.
And the finance minister is designating the Ombudsman for Banking Services and Investments as an independent, not-for-profit and external complaints body for the banking sector, following up on a budget promise.
As many Canadians face rising mortgage costs due to high interest rates, Freeland reiterated that Canadians are entitled to flexibility and options from their banks, as outlined by new mortgage guidelines announced in the spring budget.
The federal government has been regularly putting up its cabinet ministers for weekly announcements on part of a push to get ahead on affordability issues.
The Canadian Press
---
2:45 p.m.
BlackBerry aiming for June IPO for Internet of Things business: CEO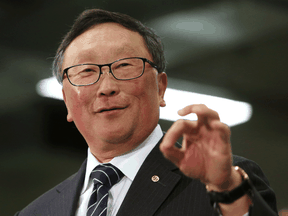 The head of BlackBerry Ltd. says he's hoping for June timing on the initial public offering the company has planned for its Internet of Things business.
Article content
The forthcoming IPO will carve BlackBerry into two business units, dividing its cybersecurity operations from its internet of things offerings.
The Waterloo, Ont.-based technology company has been evaluating a range of strategic alternatives to enhance shareholder value since May.
The company lost US$42 million in the second quarter of its 2024 fiscal year as revenue from Internet of Things rose four per cent while cybersecurity revenue was down 40 per cent.
Speaking at an investors briefing, John Chen said he was aiming for June because he wants to avoid a summer IPO, when people are on holidays.
He also wants to steer clear of September, which he considers a bad month for the stock market because people are coming back from vacation with a different mindset.
The Canadian Press
---
2:22 p.m.
Ottawa moves to update Canada-Ukraine free trade agreement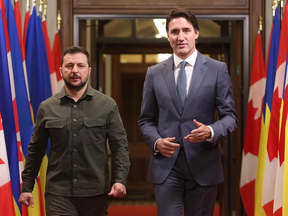 The federal government introduced today legislation to update the Canada-Ukraine free trade agreement and announced plans for a business mission to the country next year.
International Trade Minister Mary Ng introduced Bill C-57, which will implement the updated agreement in Canadian law if adopted by Parliament.
Article content
Canada and Ukraine signed the modernized trade agreement in September. The new deal builds on a free trade deal that came into force in 2017.
The modernized agreement includes dedicated new chapters and provisions on trade in services, investment, temporary entry for business persons, telecommunications, digital trade, labour and the environment.
Ng also announced that she will bring a business mission to Ukraine next year.
The value of total bilateral trade between Canada and Ukraine amounted to $422 million in 2022.
The Canadian Press
---
2:00 p.m.
OSFI's proposals on mortgage rules lack stakeholder support: Robert McLister
Mortgage strategist Robert McLister says the real estate industry is likely breathing a sigh of relief after Canada's banking regulator signalled it might not move ahead with some proposed tightening of its mortgage lending rules.
The Office of the Superintendent of Financial Institutions floated the proposals in January as part of its wide-ranging review of the B-20 mortgage underwriting rules.
It included potential additional conditions for a stress test, where would-be borrowers must prove they could continue to make mortgage payments at a higher interest rate.
Article content
It says stakeholders were generally not supportive of additional debt service measures and raised concerns about the disproportionate impact that new industry-wide measures could have on smaller lenders.
McLister agrees with concerns that tougher loan-to-income restrictions could scale back lending.
He says flexibility for lenders can be better maintained if the regulator does not institute defined debt ratio limits for uninsured federally regulated mortgages.
The Canadian Press
Read more: OSFI pulls back on some mortgage proposals, all in on others
---
1:40 p.m.
Analyst downgrades Laurentian Bank over credit risks, cuts price target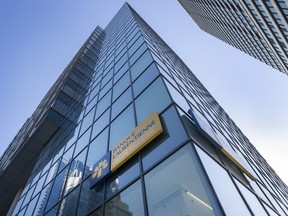 Laurentian Bank of Canada's mounting troubles have put its credit rating at risk, according to the latest analyst to downgrade the Montreal-based lender.
A series of snowballing setbacks prompted National Bank of Canada analyst Gabriel Dechaine to cut his rating to underperform from sector perform. It's his second downgrade in just over a month, he last lowered his rating on the bank in September following Laurentian's strategic review that ended without finding a buyer. Since then new challenges have emerged, including a service outage and the departure of key leaders.
Article content
"LB's wholesale funding costs are rising in the wake of potential rating agency actions," Dechaine said, citing a S&P Global Ratings downgrade to Laurentian Bank's outlook to negative from stable on Thursday. DBRS Morningstar is undertaking a similar review, Dechaine expects an update in November.
Laurentian Bank has strong capital and liquidity levels, a spokesperson for the lender said in an email. The stock dropped 3.6 per cent today, and was the worst performer on the S&P/TSX Composite Index.
The analyst also dropped his price target to $27, the lowest among analysts tracked by Bloomberg, from $32. The new target reflects a more conservative net interest margin, he wrote in a note dated Monday.
National Bank joins other firms, including Canadian Imperial Bank of Commerce and Royal Bank of Canada in downgrading and slashing price targets following the conclusion of the review in September. Three analysts now rate Laurentian the equivalent of a sell, while seven recommend holding and one analyst retains a buy rating, according to Bloomberg compiled data.
Article content
Bloomberg
---
1:25 p.m.
GM delays opening electric-truck plant as EV demand slows
General Motors Co. will delay the opening of its second electric-truck plant in Michigan to preserve capital amid a slowdown in demand for electric vehicles.
The company said that the conversion of its Orion Assembly plant will move back by a year to late 2025 "to better manage capital investment while aligning with evolving EV demand." "In addition, we have identified engineering improvements that we will implement to increase the profitability of our products," GM said in a statement.
The automaker will continue making the electric Chevrolet Silverado, which went into production in June, alongside the Hummer EV and SUV and Cruise Origin robotaxi. GM also plans to expand to a second shift at its Factory Zero plant that straddles Detroit and Hamtramck. The company will start building the GMC Sierra EV in 2024.
The decision to rethink its production plans renews questions over the strength of EV demand as sales growth shows signs of slowing. Electric vehicle inventories have also grown in recent months as buyers balk at higher prices.
Article content
GM's shares rose 1.3 per cent at 12:44 p.m. in New York.
Bloomberg
---
12:32 p.m.
U.S. retail sales exceed forecasts, industrial production strengthens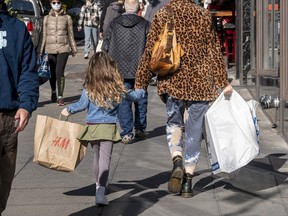 U.S. retail sales exceeded all forecasts and industrial production strengthened last month, fresh evidence of a resilient American consumer whose spending is helping stabilize manufacturing.
Sales, unadjusted for inflation, increased 0.7 per cent after upwardly revised advances in the prior two months, according to the Commerce Department. So-called control group sales — which are used to calculate spending on merchandise in the gross domestic product report — rose a better-than-expected 0.6 per cent.
Robust consumer demand, in the aftermath of September data showing stubborn inflation and surging job growth, risks prompting the Federal Reserve to raise interest rates again. The reports prompted a slew of economists, from Goldman Sachs Group Inc. to JPMorgan Chase & Co. and Morgan Stanley, to boost their tracking estimates for third-quarter GDP.
The 10-year Treasury yield jumped to the highest level since 2007, while the S&P 500 Index fell. Traders increased bets of a rate hike in the coming months and pushed bets on the first cut to later in 2024.
Article content
The advance in sales illustrates a consumer who is still delivering for the economy, seemingly undaunted by high prices. Spending is being fuelled by a robust labour market and defying economists' expectations of a slowdown on the back of a retreat in pandemic-related household savings.
Bloomberg
---
11:43 p.m.
Midday markets: TSX higher in late-morning trading, U.S. stock markets mixed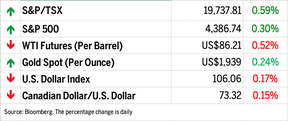 Strength in base metal stocks helped lift Canada's main stock index in late-morning trading, while U.S. stock markets were mixed.
The S&P/TSX composite index was up 76.98 points at 19,697.78.
In New York, the Dow Jones industrial average was up 2.32 points at 33,986.86. The S&P 500 index was down 1.75 points at 4,371.88, while the Nasdaq composite was down 37.23 points at 13,530.75.
The Canadian dollar traded for 73.37 cents U.S. compared with 73.43 cents U.S. on Monday.
The December crude oil contract was up 36 cents at US$85.62 per barrel and the November natural gas contract was down three cents at US$3.08 per mmBTU.
The December gold contract was up US$3.10 at US$1,937.40 an ounce and the December copper contract was down a penny at US$3.57 a pound.
Article content
The Canadian Press
---
9:45 a.m.
Stock markets are open: Wall Street slips as TSX gains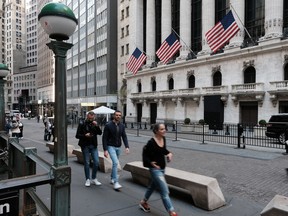 Wall Street is slipping following the latest signal the U.S. economy may still be too strong for the United States Federal Reserve's liking.
The S&P 500 was 0.7 per cent lower in early trading Tuesday. The Dow slipped 61 points, and the Nasdaq composite was down 1.1 per cent.
A strong report on retail sales last month raised worries that the Fed may feel pressure to keep interest rates high. That would help bring down inflation, but would also knock down prices for stocks and other investments.
Treasury yields rose after the report was released. The yield on the 10-year Treasury climbed to 4.84 per cent.
In Canada, the S&P/TSX composite index rose 25.39 points to 19,646.19 shortly after the opening bell.
The Associated Press
---
9:15 a.m.
Greta Thunberg arrested as climate protest disrupts London oil event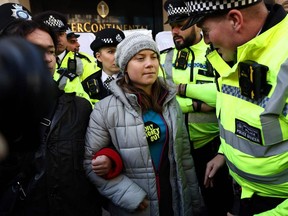 Climate campaigner Greta Thunberg was arrested outside a major energy industry event in London, where crowds of protesters blocked several top oil executives from entering the venue.
Article content
Thunberg had addressed protesters who held signs saying "People not Profit" as delegates tried to gain access to the Intercontinental hotel. As many as 250 demonstrators blocked entrances to the building, where the annual Energy Intelligence Forum is taking place through Thursday.
Executives from companies including Gunvor Group, Trafigura Group and Shell PLC have not been able to enter to deliver speeches they were due to give to the oil and gas industry. The conference has attracted protesters in previous years, but this is the first time that access has been blocked.
Momentum is building among climate protesters ahead of global talks due to take place in Dubai in a few weeks. After a summer of wildfires and extreme heat, global average temperatures for September broke records by a huge margin. The temperature anomaly for the month was roughly 1.7C above pre-industrial levels, which is above the symbolic 1.5C mark set as the stretch goal in the Paris Agreement.
Organizers of the demonstration advised conference delegates not to try to cross the protest line. As the group caused havoc outside the hotel, several demonstrators accessed the roof of the building.
Article content
Further protests are planned throughout the three-day conference, Greenpeace said by email.
"Oil bosses are toasting each other in a luxury hotel and plotting how to make even larger profits, while millions struggle to rebuild after a summer of extreme weather," Maja Darlington, campaigner at Greenpeace U.K., said in a statement.
Bloomberg
---
8:30 a.m.
Inflation cools in September, backing Bank of Canada rate pause
The rate of inflation edged down unexpectedly in September, coming in at 3.8 per cent on an annual basis, Statistics Canada said Tuesday.
Economists had expected inflation to come in at four per cent, according to Bloomberg.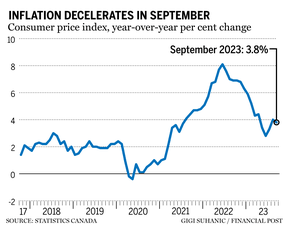 Food inflation continued to moderate, but still came in at 5.8 per cent year over year. Gasoline prices rose 7.5 per cent.
Two key yearly inflation measures that are tracked closely by the Bank of Canada and filter out components with more volatile price fluctuations — the so-called trim and median core rates — decreased, averaging 3.8 per cent, from four per cent a month earlier. That's also slower than the 3.9 per cent pace expected by economists.
Article content
A three-month moving average of underlying price pressures that governor Tiff Macklem has flagged as key to policymakers' thinking fell to an annualized pace of 3.67 per cent, from 4.29 per cent a month earlier, according to Bloomberg calculations.
Tuesday's numbers ended a two-month string of accelerating headline inflation, and will likely give policymakers more confidence price gains will continue decelerating in coming months after the temporary setback in July and August.
Bloomberg, Financial Post
Read the full story from the Financial Post's Ian Vandaelle here.
---
7:40 a.m.
TD Bank says Charles Schwab stake to add $156 million in Q4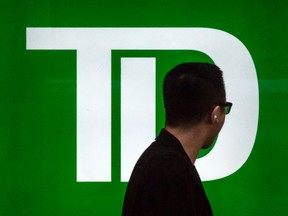 TD Bank Group says its stake in Charles Schwab Corp. is expected to translate into $156 million of reported equity in net income for its fourth quarter.
The Toronto-based bank says excluding about $13 million in acquisition-related charges after-tax, about $35 million in restructuring charges after-tax, and approximately $30 million in amortization of acquired intangibles after-tax, its adjusted equity in net income from its investment in Schwab will be about $234 million for the quarter.
Article content
Schwab reported its third-quarter results on Monday.
It said it earned net income of US$1.13 billion for the quarter that ended Sept. 30, down from US$2.02 billion in the same quarter last year.
Its adjusted profit for the quarter totalled US$1.52 billion, down from an adjusted profit of US$2.21 billion a year earlier.
TD is expected to report its full fourth-quarter results on Nov. 30.
The Canadian Press
---
7:30 a.m.
Extreme weather affected 60% of Canadian small businesses this year: KPMG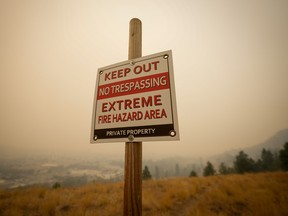 KPMG International Ltd. in Canada says almost 60 per cent of small- and medium-sized businesses across the country have been affected by extreme weather events this year.
The firm's survey shows more than half of respondents saw their costs rise significantly as a result, while 44 per cent saw a direct hit to their revenue.
KPMG says businesses in regions that experienced a high level of extreme weather were hit harder.
For example, in Ontario outside of the Greater Toronto Area, almost 80 per cent of respondents were directly affected by extreme weather.
The firm says that businesses need to make climate risk a priority amid changing weather patterns.
Article content
This year so far has seen record-breaking fires in British Columbia and the Northwest Territories, as well as storms, floods and extreme heat in many parts of the country.
"The wildfires this past summer and weather-related tragedies the world over, have intensified climate concerns among Canadian business leaders," Doron Telem, national ESG leader at KPMG in Canada, said in a press release.
"To address the new reality, companies need to have business-interruption plans at the ready and will also require stronger, more robust climate resiliency and adaptation plans."
The Canadian Press
---
Stock markets: Before the opening bell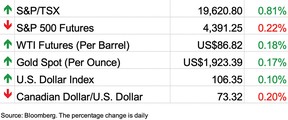 Stocks struggled for direction and bonds trimmed a decline as investors kept a close eye on diplomatic efforts to contain the Israel-Hamas war, including a visit to the region by United States President Joe Biden planned for Wednesday.
Europe's Stoxx 600 Index and futures contracts for U.S. equities kept to narrow ranges as traders prepared for a flurry of major earnings, including Goldman Sachs and Bank of America. Johnson & Johnson rose in pre-market trading after its third-quarter sales beat estimates.
Article content
Shares in Belgian materials and chemicals group Umicore SA advanced 15 per cent after the company announced plans to expand into Canada and lowered its capital expenditure target for the 2022-26 period to €3.8 billion from €5 billion.
In Canada, the S&P/TSX composite index closed up 157.94 points at 19,620.80. Here are the top 3 performers on the TSX yesterday.
Bloomberg
---
What to watch today
Statistics Canada will release the latest inflation data for September this morning.
Wall Street banks continue to report earnings, with Bank of America Corp., Bank of New York Mellon and Goldman Sachs Group Inc. results on tap today. Johnson & Johnson and United Airlines Holdings Inc. also report.
George Smitherman, chief executive of the Cannabis Council of Canada, will hold a news conference with cannabis sector executives and a financial services provider to address the state of the cannabis sector after five years of legislation.
BlackBerry Ltd. will host an investor briefing regarding Project Imperium.
Need a refresher on yesterday's top headlines? Get caught up here.
Related Stories
How American interests dominate Canada's game

Think like an owner if you want to improve investing chances
Additional reporting by The Canadian Press, Associated Press and Bloomberg
---
Bookmark our website and support our journalism: Don't miss the business news you need to know — add financialpost.com to your bookmarks and sign up for our newsletters here.
link